Diamond Fence's latest projects, a timber look aluminium slat fencing in Truganina, Melbourne, is a picture-perfect example of the appearance aluminium slat fencing can provide.
As the name says it, aluminium slat fencing is a fencing type that uses innovative and easy-to-install aluminium slats. The installation process is much easier than for some other fencing types. However, there are a few decisions to be made before the installation can take place. For example, you need to decide what slat panels (measurements, colour) you need, the type of fencing posts, gates (if any) and the need for other fencing accessories (post spacers, slat spacers, screws, etc.).
If you do not want to be involved in any other choice-making besides choosing the colour of your fence, Diamond Fence can help you out with the rest! We have a profound experience in aluminium slat fencing installation in Melbourne.
What are the benefits of aluminium slat fencing?
Be it in Truganina or any other suburb in Melbourne, this fencing type is visually appealing. It just looks great! The timber look aluminium slat fencing above/below, installed in Truganina, used the Tasmanian Oak colour. However, there are a variety of colours available. If you have decided to install the aluminium slat fence, the best would be to contact the fencing provider to find out what colour options they offer. If your chosen fencing provider is Diamond Fence, you can contact us via email, phone or online enquiry via the website. All the details can be found on our website's CONTACT page.
If your fencing project is on the budget, aluminium fencing is a perfect way to start. It is a cost-effective fencing option. Also, it is durable and very practical.
Furthermore, let's say you would like to establish that picture-perfect wooden look. You could install a real wooden fence. However, having a wooden fence requires a lot of maintenance. It is susceptible to rot or deterioration. Also, you would need to invest additional funds to maintain the wooden fence. You might need to purchase fence cleaning supplies, which can accumulate to a substantial amount of money over the years.
This brings us to the next benefit. LOW–MAINTENANCE! Yes, it is written in capital letters, as is one of the best features of aluminium fencing. Unline wrought iron or steel, aluminium is a rust-resistant material, making it a long-lasting and reliable fencing alternative.
Lastly, aluminium is a lightweight material. Therefore, making it an easy fencing type to install. The transportation and installation process is quick and straightforward!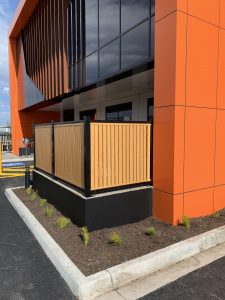 CONTACT US TO FIND OUT MORE!
Aluminium slat fencing can be custom made to suit any size requirement of your fencing project.
Call us on (03) 9753 4566, shoot us an email on info@diamondfence.com.au or get a FREE online quote.