Australian made steel fencing has an element of high quality to it. It is also one of the main reasons Diamond Fence uses Australian made steel products. The highest degree of customer satisfaction regarding Diamond Fence's steel fencing projects is our utmost priority. We are a Melbourne based fencing company, however, our suppliers around Australia are known for being the best in the fencing industry. Therefore, top-quality Australian steel fencing is guaranteed.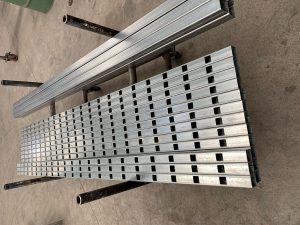 What are the benefits of Australian made materials?
As mentioned previously, one of the most important benefits of using Australian made steel fencing material is its guaranteed high quality. Having a close relationship with all the steel suppliers, Diamond Fence knows the sources of the materials. Hence, knowing the reliability and trustworthiness of all our partners.
Being made in Australia means that the steel products have to satisfy Australian Standards. Meaning, suppliers have to ensure the safety of the steel. It may include factors such as mechanical properties, chemical composition, dimensional and mass tolerance. Furthermore, depending on the usage of the steel material, Australian Standards also cover welding, painting, galvanizing and the delivered quality.
When your fencing project faces a due date, sometimes, delays in the supply chain process may bring significant financial losses. Using Australian produced fencing materials will give you a good night's rest, knowing that your fence supply is on its way. Locally produced steel materials benefit from not needing to rely on marine transportation from abroad. Australia has a well-established steel industry network that enables effective time-management and scheduling between the fabricator and fencing supplier.
Diamond Fence aims to be environmentally friendly in its fencing processes. Hence, using Australian made steel fencing materials would mean being environmentally considerate. How? As mentioned above, using local products will shorten the supply chain. Meaning, fewer resources will be used to deliver the final product. For example, shorter transportation costs (e.g., fuel) due to a shorter distance from the manufacturer to the fence supplier, and finally to the fence owner, would also mean less pollution in the Earth's atmosphere.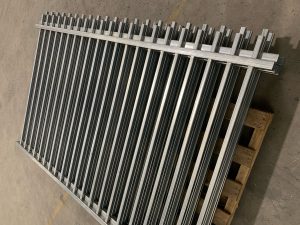 Preparation of Australian steel fencing for powder coating
Australian made steel material in the picture has been prepared for powder coating. If you are not familiar with that process, it simply means a dry finishing process that provides various products, including steel fencing, with a high-quality durable finish. Powder coating allows for the fence owner to choose the colour of their preference. Also, powder coating steel fences will protect them from environmental factors, such as moisture that will lead to corrosion.
If you have a fencing project, and you would like to be assured you will receive the best quality steel, turn to Diamond Fence.
Call us on (03) 9753 4566, shoot us an email on info@diamondfence.com.au or get a FREE online quote.