Moodwood can be used for decking and fencing. It has become a popular material in recent years in Melbourne, Australia. What makes it so special? Modwood is an eco-friendly composite product used in many industries and by many professionals such as builders, architects, and, of course, fencing specialists. Diamond Fence is one of them. We offer Modwood fencing across Greater Melbourne.
What is Modwood fencing?
Modwood is made from a combination of plastic and recycled wood. To be more specific, Modwood uses a mixture of ground sustainable wood waste and recycled plastic milk bottles. What makes Modwood fencing even better, it contains no formaldehydes. It is a practical, eco-friendly and perfect alternative to other fencing materials for domestic, commercial and international purposes.
A brushed or slippery surface?
Modwood material has two different faces: brushed and smooth face. The brushed face has a lighter colour, while the smooth face darker. There are pros and cons of facing either, a brushed or smooth face, upwards when using it for decking. Or the direction of the brushed and smooth face when using Modwood material for fencing purposes.
Pros of the brushed, lighter coloured face:
It is a more durable finish. Hence it is suitable to be used for roofs and covers.

Does not show scratches as easily as the smooth face.

When used for decking, it is a better option as its non-slip feel is safer for surfaces that are used for walking on.

If your Modwood fence gets scratched, the brushed face can be sanded out. You can also use a wire brush to get rid of the scratches on the fence.

Colour shift or fade is less noticeable (slower).

If you ever decide to paint Modwood, then the brushed surface can easily take oil-based paint. 
Cons of the brushed, lighter coloured face:
As the face is brushed (not smooth), the wood fibre that is exposed, is more susceptible to stains.

For the same reason as above, the brushed surface and its exposed wood fibres will pick up dirt and mould more easily.
Pros of the smooth, darker coloured face:
As a smoother face has more plastic on its surface, it is less susceptible to dirt and stains.

Solid colour.
Cons of the smooth, darker coloured face:
It may feel a bit more plastic due to its higher plastic consistency. 

On a hot day, it can significantly warm up.

When Modwood fencing (Modwood material overall) gets scratched, you cannot use a wire brush to get rid of scratches as you would for the brushed face.

Will fade faster in the first few months after the installation.

If you decide to paint Modwood's smooth face, it has to be well-weathered before painting for it to adhere properly.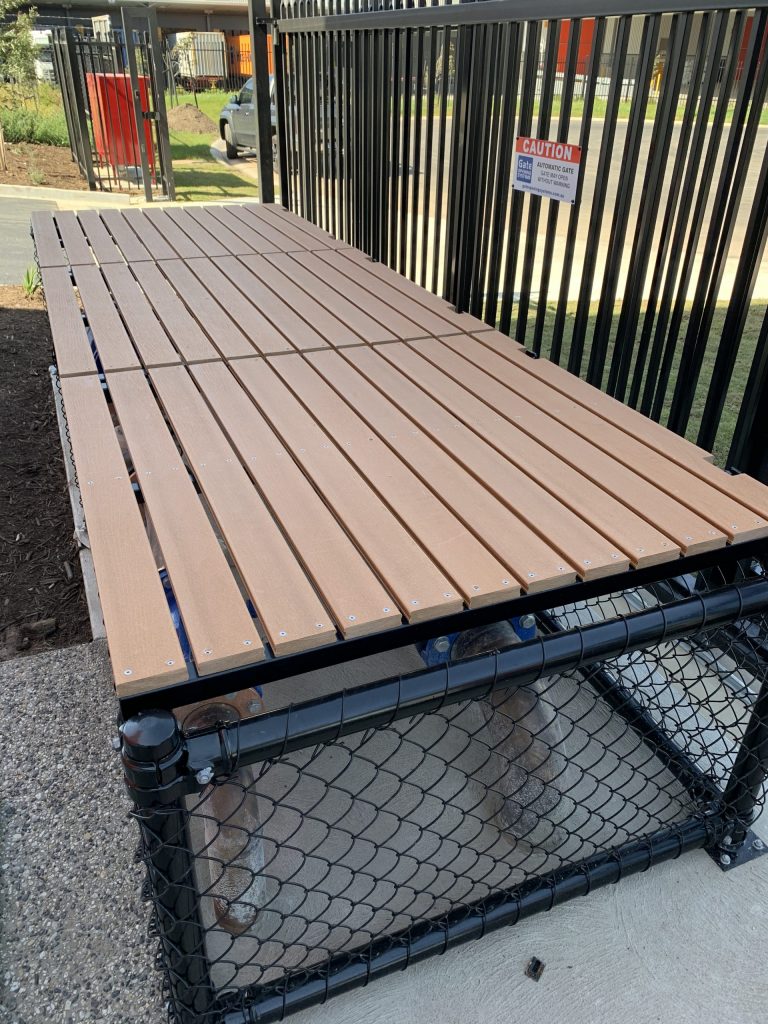 If you are interested in Modwood fencing, or the combination of Modwood and some other fencing type, contact our friendly team, who will help you out.
Call us on (03) 9753 4566, shoot us an email on info@diamondfence.com.au or get a FREE online quote.