Chain Wire Security Fencing
RSEA Park chain wire security fencing in Moorabbin, Melbourne, got an upgrade completed by Diamond Fence. RSEA Safety Park, also known as Moorabbin Oval, is an Australian Rules Football ground in Melbourne. Diamond Fence installed a new black chain wire security fencing with wooden posts to the sports ground that is used by St Kilda Football Club and hosts home games for its AFLW team.
A proper sports fencing is an essential safety aspect of a football ground. It protects your property and the spectators during the sporting event. It has good looks and is durable, making it a good investment in the long-term.
Below you can find images of the chain wire security fencing in Moorabbin, Melbourne.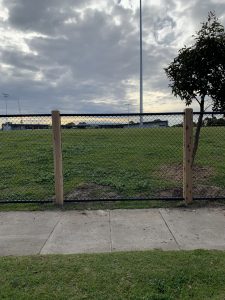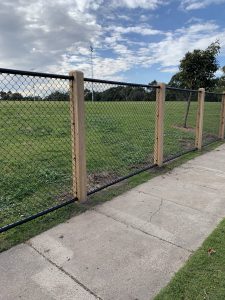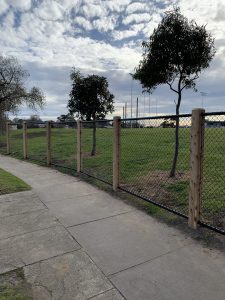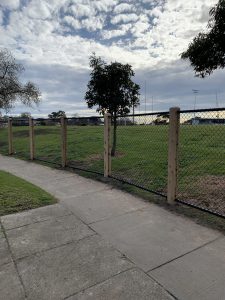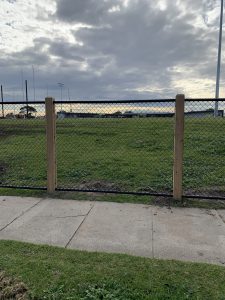 Why should you use chain wire as a security fencing?
Firstly, its durability. Chain wire fencing will last you a long time and is the reason why it has remained a popular security fencing choice for many years.
The chain wire security fence is also easy to fix. Instead of replacing the whole fencing, having a chain wire fence allows replacing only the damaged part.
Chain wire security fencing is also cost-effective compared to other fencing types. Therefore, if you have a medium or large fencing project planned, you may want to consider the installation of the chain link fencing.
Last but not least, chain wire fencing allows for flexibility. Meaning, you can choose the measurements according to your needs. In some instances, depending on who is your fencing specialist, you may be able to tailor the diamond grid pattern for your chain link fence.
When turning to Diamond Fence for your new security sports fencing, you can rest assured that Diamond Fence will help you to determine the style, measurements and material suitable for your security sports fencing.
Call us on (03) 9753 4566, shoot us an email on info@diamondfence.com.au or get a FREE online quote.