Diamond mesh fencing is known by its many names. Some of the common names are chain link fencing, chain wire fencing, chain mesh fencing, wire netting, wire-mesh fencing, cyclone fencing, or even hurricane fencing.
Many names, however, diamond mesh fencing has one origin. It was developed in the mid-1800s in the United Kingdom. About half a century later, it became a mass-production product in the United States when the wire-weaving machine designs were purchased by an American company.

The size of diamond of a diamond mesh fencing
Is there a need to know the size of the diamond of the diamond fencing? There is when you need a smaller diamond rather than a larger one. Or when you need to fix up an old fence and you need to purchase diamond mesh.
Chain mesh fencing is made of galvanized steel wire woven to form a mesh. When it comes to measuring the size of the diamond of your diamond mesh fencing, you measure it diagonally in both directions (inside dimensions).
The diamond mesh comes in various diamond sizes. Some of the common ones are:
2″ diamond. Has approximately 41 diamonds for every 3 metres of fence.
2-1/4″ diamond. Has approximately 38-1/2 diamonds for every 3 metres of fence.
2-3/8″ diamond. Has approximately 37 diamonds for every 3 metres of fence.
The gauge of the wire depends on the size of the mesh opening. Meaning, the larger the diamond mesh opening, the thicker the wire will be.
For domestic purposes, the size of a diamond of the mesh is usually 50mm or 60mm. However, depending on the fencing project requirement and the fencing service provider, diamond size can be as small as 25mm or as big as 100mm.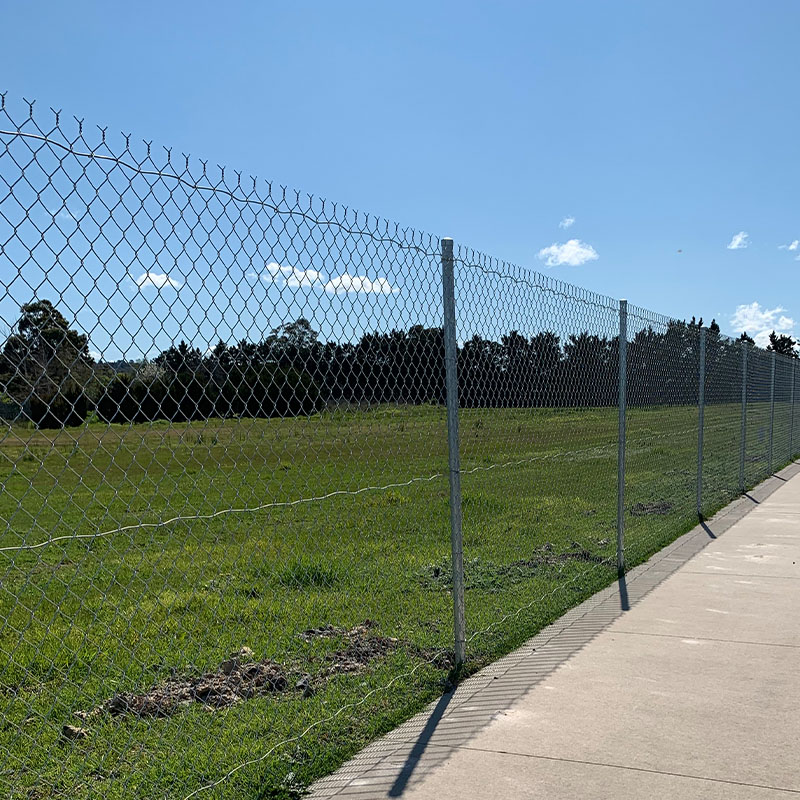 Benefits of diamond mesh fencing
Diamond mesh fencing is a strong and reliable fencing option. 
Installation of diamond fencing allows for maximal visibility. Meaning it is suitable for high-security areas. For example, prisons, airports and schools.

It is low-cost metal fencing. Meaning it is affordable compared to some other steel fencing options. Moreover, repairs are also relatively cheap (depending on the damage) as you do not have to replace the whole fence, but only the damaged part.

Diamond mesh can be mixed and matched with other fencing types. For example, with Colorbond steel fencing.

Maintenance of diamond mesh fencing is simple. You have to make sure that the dirt and debris will not accumulate at the bottom of the fence. Give it a wash 1-2 a year. Lastly, replace any damaged parts as soon as you discover them.
Interested in the diamond mesh fencing in Melbourne?
Contact us today. Send us an email at info@diamondfence.com.au OR give us a call on (03) 9753 4566.