Is fence installation on a concrete pad a good idea? Yes, it is. Various fencing types can be installed on brick pavings and concrete pads (slabs). Whether the location chosen for new fencing is on the sidewalk, concrete patio or driveway. In some cases, concrete pads are already there. Sometimes new concrete pads have to be installed before proceeding to the fence installation process.
How to lay a concrete pad?
If you do not have concrete pads installed, this is where you should start. 
 Firstly, you should remember the safety measurement.
Be careful when lifting heavy concreting materials. 

Protect your skin from direct contact with freshly mixed concrete or mortar. 

Wear protective gloves. 

If you get wet concrete on your skin, wash it off with soap and water.

If possible, wear protective goggles. If you get the cement in your eye(s), wash it off immediately with clean water. Then, seek medical treatment as soon as possible.
Select and prepare the site where you are going to install the concrete pads.
Then you will need suitable boxing. Boxing is the outer framework secured tightly on the ground. It will hold the concrete in place. You do not have to purchase new timber to prepare the boxing. Any old timber you may have lying around on your property can be used. The recommendation is to use a sufficient amount of pegs. They will act as supporting elements of your boxing. When you pour the wet concrete into the framework, the weight of the concrete will load against it. With insufficient support from the pegs, the concrete can 'blow out'.
Once you have suitable boxing, you have to put it in place. By measuring the diagonals, you can make sure that the boxing is square. Also, make sure that the soil is removed before you put the timber framework in place. Depending on the project, boxing can be either leveled with the ground or raised above it.
For more detailed information on how to prepare the site for concrete pads, check out the following website by Mitre10.
What's next?
You need to prepare the mix. Before placing the concrete in the mixer, read the instructions on the pack. They will tell you exactly what to do. Once the mix is prepared, pour it into the boxing. Then spread it out evenly. Also, by tapping the framework with a hammer or some other rigid tool you may have around, you will get rid of any air bubbles in the mix.
If you do not have a machine mixer, you can use hand mixing. If you have large quantities that have to be installed, you may be better off renting the machine mixer. However, for small volumes, using hand mixing is suitable.
How to finish?
You should aim for a uniform finish. How to establish that? Use a straight piece of timber to screed off the excess concrete.
How long should you wait for the concrete to dry?
It depends on the weather, the size of the pad and the concrete mix used.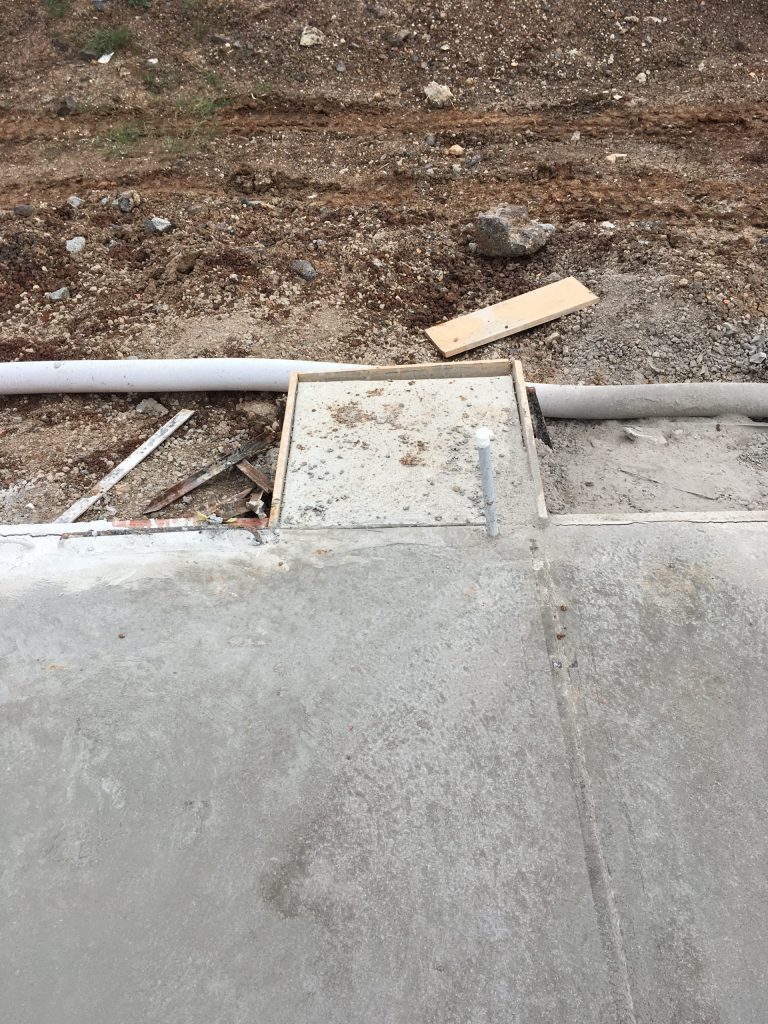 What are some of the ways to install a fence on a concrete pad?
Now we have an idea about how to install concrete pads. The next step would be to install a fence on it.
We are going to look at two options. Firstly, using core drilling through finished concrete pads. A core drill is a powerful tool that will help you drill holes through the reinforced concrete. Using a core drill will eliminate the risk of putting too much strain on the concrete when drilling. 
You can also use a hammer drill. It is also known as a percussion drill or impact drill.  In essence, it is a power tool used for drilling in hard materials. 
These drills will help you to drill the holes in the concrete for the fasteners. Once that is done, pay attention to the post anchors. Using high-quality fence post anchors that have been designed for mounting posts to concrete is essential. Why? You need sturdy fasteners to hold your fence in place as it can be affected by many environmental factors (e.g., strong winds).
The second option would be to bold posts with a base place onto the concrete. This alternative can be used when core drilling is not possible (e.g., existing underground services). 
Need help?
If it seems too much work, turn do Diamond Fence. Our fencing team will install the needed concrete pads and then the fence. Contact us to get a free quote or enquire about various fencing services offered by us.
Call us on (03) 9753 4566, shoot us an email on info@diamondfence.com.au or get a FREE online quote.