We are quite familiar with tubular steel fencing. However, not many may have heard of Finn type fencing. Below you can find images of Diamond Fence's latest fencing project: Finn angle fence in Templestowe, Melbourne.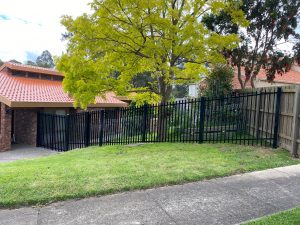 The difference between tubular steel fencing and Finn angle fencing
Tubular steel fencing is one of the most popular fencing options in the Melbourne Metropolitan Area in Victoria. Thus, it does not need much introduction. The first and foremost commonly known benefit of a tubular steel fence is its sturdiness and low maintenance. Tubular steel fences are usually either galvanized or powder coated, making them harder than a brick wall! They require very little maintenance (an annual wash) and can withstand sand storms, heat (UV, fires) and flooding. Tubular steel is so strong that it will not crack or warp. 
Tubular steel fence is a great security fence option. It will keep the intruders away and is resistant to insects and animals.
What about Finn angle fencing? Well, the Finn angle fence is simply an upgrade from the traditional tubular steel fencing. How? Protruding fins on the fencing provide extra privacy. When the Finn angle panels are viewed from an angle, the view behind the fence is limited.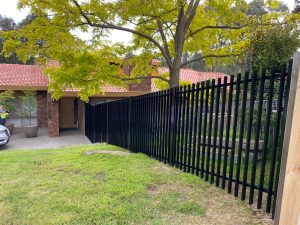 Characteristics of Finn Angle Fence
Finn type fencing has evenly spaced vertical pickets, which provide privacy elements form the surrounding environment. However, it still allows good visibility from the inside out.
When it comes to the maintenance of the fence, it is also a low maintenance fencing type. Assembled from durable and corrosion-resistant fencing panels, Finn type fencing is suitable for residential and commercial applications. Furthermore, a wide range of colour options can be offered due to the powder coating. 
This fencing type is suitable for various gate options – ideal for front gates. Furthermore, it is pool fencing compliant (complies with Pool Fencing Standard AS1926.1-2012).
If you have any further enquiries regarding Finn angle fencing, contact our friendly fencing team at Diamond Fence!
Call us on (03) 9753 4566, shoot us an email on info@diamondfence.com.au or get a FREE online quote.