If you want to make your fence look more attractive, you may want to consider painting your fence ornaments. This blog post will focus on the steps of how to paint fencing ornaments to make them last longer.
Different fencing styles have various fencing ornaments. However, this post will focus on steel fence ornaments. Timber ornaments may require a different approach. Hence, remember that the below steps apply to standard steel fencing and ornaments that decorate it.
Fencing Ornaments
Fencing ornaments come in different sizes and shapes. Some of the standard ornaments offered by a majority of the fencing suppliers in the Australian fencing industry are metal spikes, knobs, latches, scrolls, rosettes and pickets. Some fences are decorated with metal leaves, flowers and other pressings. Additionally, fence specialists offer rings, twisted tubes, hemispheres and spheres (solid or hollow) and candleholders amongst their metal fencing decor selection.
Steel fence decor is not limited to the above selection. Most fencing specialists offer custom-made solutions to their clients to suit the required style.
Now, let's look at how to paint steel fence ornaments to make them last longer.
Painting steel fence ornaments
STEP #1
Do you have all the required equipment? How high will you have to reach to get to your fence ornaments? Will you need a ladder? Is the ground beneath your ladder stable? Do you have safety glasses, gloves and clothing? These are some of the questions you need to consider alongside whether you have the appropriate primer, paint and cleaning products.
STEP #2
You should prepare the surrounding environment for the painting. Cover up any nearby objects you do not want to get covered in paint as the painting job might get messy. Also, if your fence is located near a public pathway, you may want to cover the area underneath the fence where you are painting the ornaments. It is a hustle to remove the paint from the concrete pathway after the painting if you have not covered it as a precautionary method.
STEP #3
Once you have your safety gear on, it is time to prepare the fence (ornaments) for the painting. Note that steel fence preparation is the same as steel fence ornaments preparation for painting. Cleaning/painting the ornaments simply requires more time and effort due to hard-to-reach crevices.
You will need to scrub flaking paint from wrought iron using a wire brush. As ornaments have difficult-to-reach spots, you may need a small cleaning brush to scrub the crevices, narrow spots, and decorative finials.
If the fence ornaments are covered with several layers of old paint, you may want to consider professional sandblasting. Sandblasting is a process that strips a surface of dirt, rust, old paint and grease. It prepares the surface for refinishing and repair using pneumatic, electrical, or mechanical equipment. As this job is physically demanding, leaving it to the professionals with the appropriate equipment may be a wise decision.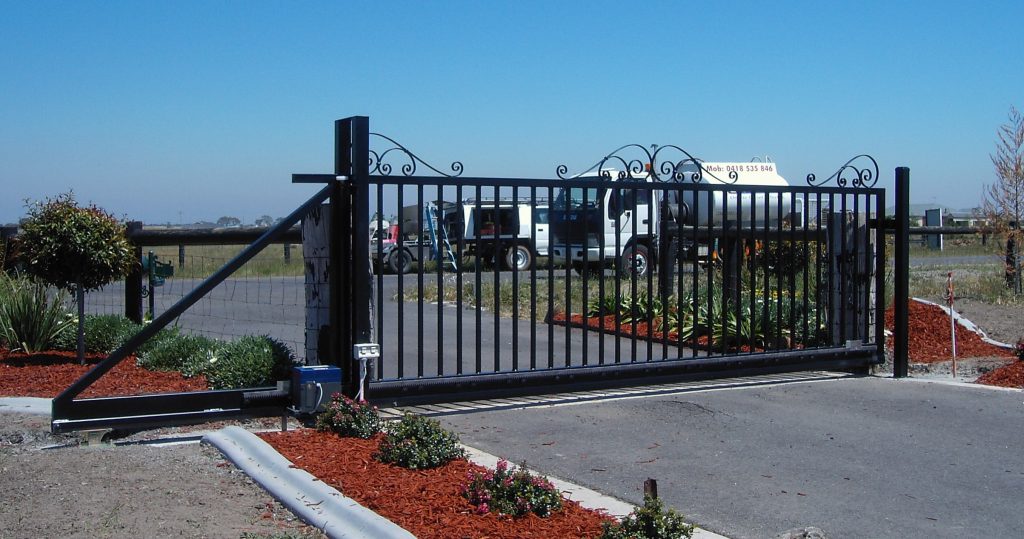 STEP #4
The next step would be to check for any rusty spots on the ornaments and the fence. If left unattended, the rust will weaken the fence structurally. Thus, it is the best practice to tackle any rusty spots as soon as they emerge. How to do that? Use sandpaper and a fine wire brush. There are also several options of protective sprays and wax for the steel fences. Different hardware stores have various options. Ask the sales representative to suggest what is the best choice from their available selection.
STEP #5
Once your fencing ornaments are clean, it is time to apply the primer. Apply the suitable primer for the metal according to the manufacturing instructions. Why is metal primer necessary? It hinders oxidation, hence it is a rust inhibitor. If it is not, the primer contains nothing in it to prevent oxidation.
STEP #6
The last step would be to apply a least two layers of appropriate metal paint. Make sure that you do not administer thick layers of paint, as the paint may become runny or fill the gaps of the ornaments to the extent it will ruin the appearance of the decor.
If you are interested in steel fence ornaments or any other steel fencing services, turn to our experienced fencing team. They will provide you with free fencing quotes.
Call us on (03) 9753 4566, shoot us an email at info@diamondfence.com.au or get a FREE online quote.