Slat gates in Melbourne, be it aluminium, steel or even timber, can be installed at the same time and in the same style as your fencing, or at a later time if needed.
Slat gates include automatic or manual sliding and swinging gates (pedestrian gates). For some homes, slat gates are a perfect addition as inlays for brick fences.
Choosing the material for your slat gate
Choosing the material for slat gates is not a complicated task if you know your requirements. 
One of the most known slat fencings is classical timber fencing. It is one of the cheapest fencing and gate options. However, it requires constant maintenance. Consequently, it has a shorter life span compared to aluminium or composites.
Maintenance of timber gates includes regular oiling or repainting to maintain its aesthetic value. Note that timber gates are also prone to warping, rotting and mould due to external weather factors such as rain/moisture. You also need to be aware that termites can damage your slat gates and fencing.
Another slat gate option would be aluminium slat gates. They are more expensive, however, more durable compared to timber slat gates. It is tested against Australian hot and rainy (depending on the location) climate conditions. The beauty (literally) of aluminum slat gates is that they require minimal if any, maintenance. Forget warping, rotting, and termite attacks, as they will not cause any damage to aluminium fencing.
Another option would be Modwood composite slats. Modwood, produced in Australia, is an environment-friendly fencing option. Having Modwood slat gates will ensure that they are versatile, termite-resistant, cost-effective and require low-maintenance.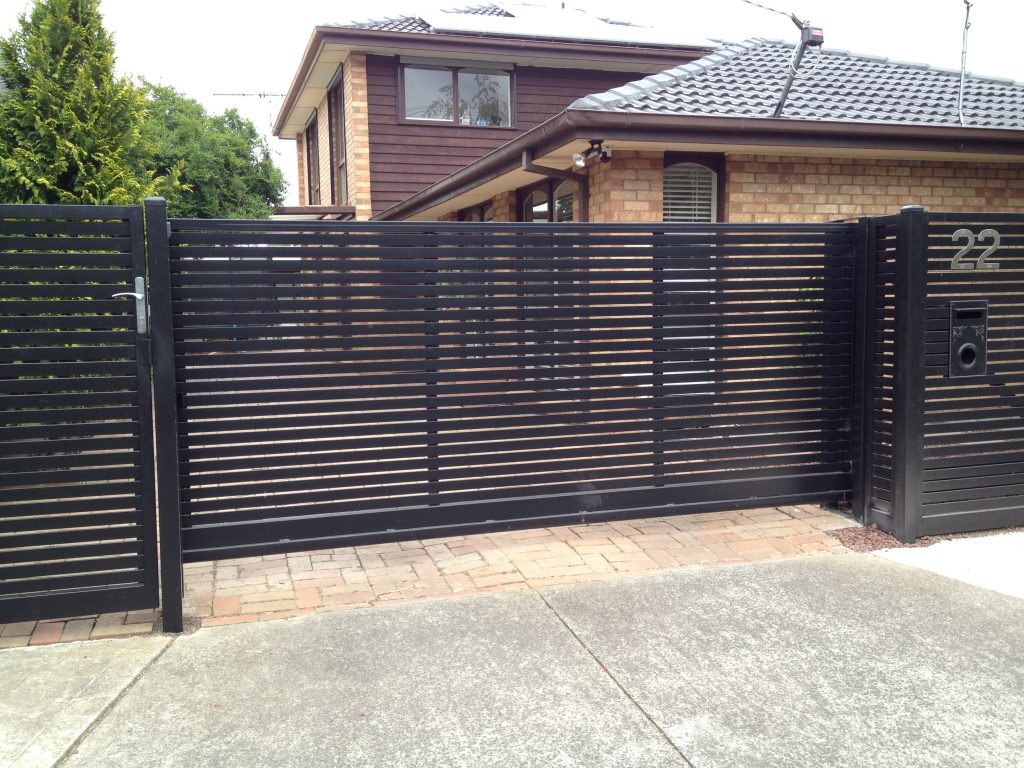 Installation of slat gates in Melbourne
The Diamond Fence fencing team in Melbourne is experienced in installing slat gates and fences. If you do not know what material to choose, you can contact our team. They are more than happy to provide you with free fencing quotes.
As a precautionary method, you could check with your local council if they have any specific rules or limitations for installing fences and gates in your neighbourhood. For example, the height limit of your fence and gate. Also, some areas do not permit certain materials, such as bamboo.
Interested in the slat gates in Melbourne?
Contact us today. Send us an email at info@diamondfence.com.au OR give us a call on (03) 9753 4566.