Below you can find some valuable springtime steel fence maintenance tips that can come in handy when you decide it is time to show some love and care to the steel fence surrounding your premises.
Without further ado, here are Diamond Fence's tips.
TIP 1.  Chain Link Fence
Let's start with chain link fencing as it is one of the most popular steel fencing styles in Melbourne.
How to take care of your chain link, also known as chain wire fencing?
Being one of the most cost-effective fencing types, it is also good to know that chain link fences require little maintenance. Little doesn't mean any at all. Therefore, be sure to do an annual check-up to determine whether the chain link mesh has been damaged and needs any replacement. It is necessary, especially when you live in a highly corrosive environment (high humidity).
Checking for any damages is the first step. The second step would be to clean the chain wire fence from any debris that might have accumulated since the last time you did the check-up.
If you did notice that your chain wire fence is damaged, turn to Diamond Fence. We also offer fence and gate repairs in Melbourne.
TIP 2.  Tubular Steel Fence
Tubular steel fence maintenance includes prevention methods. Firstly, if possible, apply protective wax. Giving the steel fence a fresh paint coating will have similar benefits when it comes to protecting fencing from corrosion. Also, springtime steel fence maintenance can give your old steel fence a great new appearance for the upcoming summer.
Washing your fence 1-2 times a year should do it. Use warm water and some gentle cleaning chemical. Most dishwashing liquid formulas are suitable for the job. Just scrub the dirt off your fence and give it a quick rinse right after.
Similar to any other steel fencing type, make sure to look for rusty spots. It is better to get on top of the damage right away as rust can spread.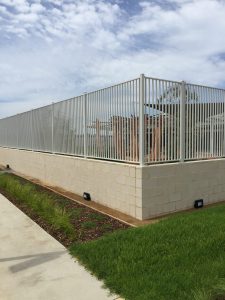 TIP 3.  Colorbond Steel Fence
The maintenance of the Colorbond steel fence might just be the easiest one. You simply need to give it an annual wash with water. However, note that if your Colorbonds steel fencing is located in an area where marine salt is common and the rainwater does not wash the fence occasionally, give it a nice clean every six months or so.
If the water does not do the cleaning job, then you might need to remove the dirt using a mild solution of pure soap or mild non-abrasive kitchen detergent in warm water. Be careful not to damage the paint.
Use a sponge or soft cloth. Be gentle when washing the Colorbond steel sheets. Then immediately give it a rinse with clean water.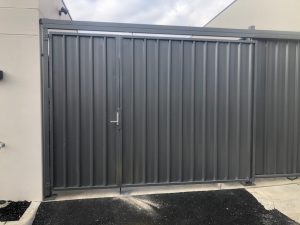 TIP 4.  Post & Rail Fence
Post and rail fencing is an excellent example of mixed fencing types. You may have the post and rail fence that has steel posts and steel rails. However, a more popular choice has been having wooden posts and steel rails or vice verse.
When it comes to the springtime steel fence maintenance, consider that posts and rails both need a proper clean. As with every previous fencing type, you need to make sure that you will wipe away any dirt or weeds that have accumulated. It creates a perfect moist environment for corrosion. Your metal posts/rail can start rusting. Or if you used wooden material, it can start rotting. Make sure to check for those signs as it is better to stop it in the beginning, rather than having to change the whole fence later on.
Sometimes a minor touch-up will do. Giving an extra coating to the metal or wood can expand the fence's life-span considerably.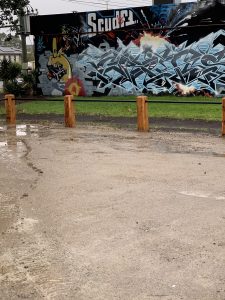 Regardless of the fencing type, the fence needs a proper clean (annually or biannually), a check for any damages and if any were detected, repairing them.
Diamond Fence can help you out with fixing the damages your steel fence may have or installing new steel fencing overall.
Call us on (03) 9753 4566, shoot us an email on info@diamondfence.com.au or get a FREE online quote.