Good synthetic grass tennis court fencing can make your tennis practices and games a much more pleasurable venture, opposed to when you do not have one. Or have fencing that is damaged, letting tennis balls slip under, over or even through due to the holes in the fence.
Synthetic tennis courts come in various sizes, colours and synthetic grass itself. For example:
Court turf. This turf has synthetic grass that is 19 mm in height. It is suitable for medium-paced tennis games.

Multi-Sport turf is also 19 mm in height. However, this turf is just a level up from the court turf, as it has double backing and a high stitch rate. A multi-sport synthetic tennis court is suitable for commercial purposes. You can also find them at clubs and schools, keeping the courts constantly occupied and in use.

Tournament pro turf has synthetic grass that is slightly shorter (15 mm). Shorter pile height means a faster game. That, in turn, means higher-level play. This turf is also much denser. Hence, requiring much less sand infill.

On top of pile height and the density of the synthetic grass, courts come in various colours. For example, field green, royal blue, rust and white line markings.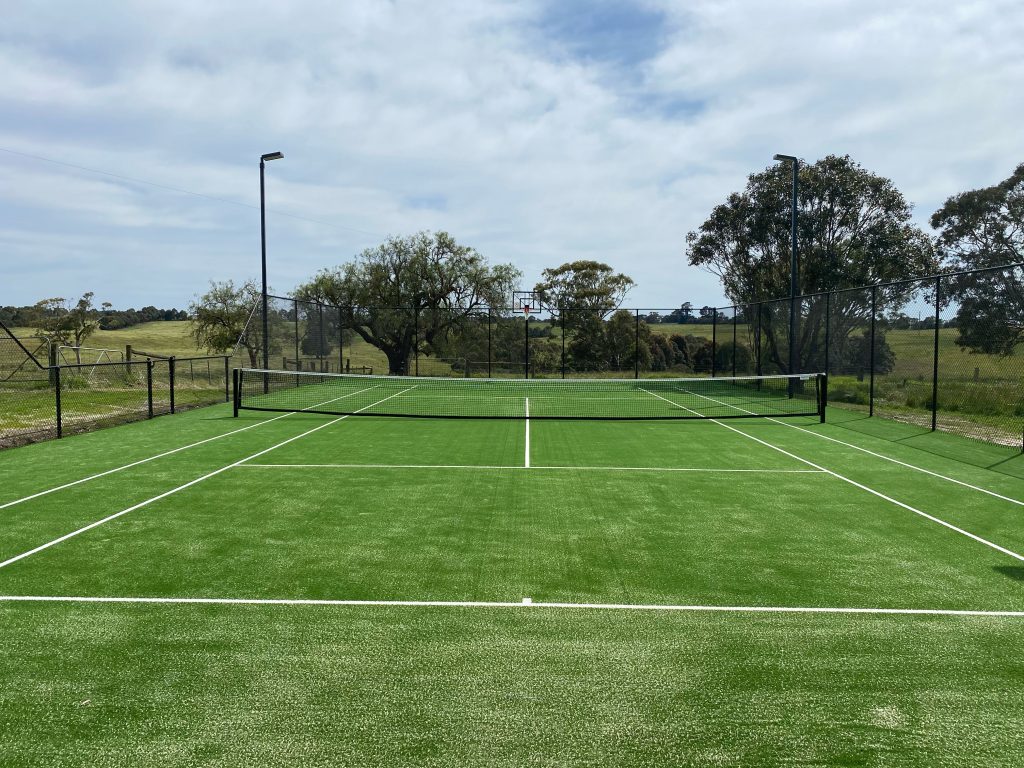 Synthetic tennis court fencing
Once you have chosen the suitable synthetic grass, it is time to choose a suitable tennis court fencing.
The most popular choice for tennis court fencing is black chain link fencing. As a protection for the fence itself, it is usually galvanized. As extra protection for the tennis players, the fence can be PVC coated.
Plastic coated chain wire can prevent some injuries (e.g., scratches) when players run into the fence midst playing by accident. Additionally, PCV coating will protect the fence from getting damaged by external factors (tennis balls and rackets). It is important because when the chain link gets scratched deep enough, it will expose the metal underneath the zinc coating. Thus, exposing it to the external environment, which can cause corrosion.
One of the best benefits of cyclone tennis court fencing is that it is highly durable, affordable and easy to install.
However, at times, people may choose an alternative fencing style for their tennis courts. Whichever alternative they choose, they need to remember that the gaps between the fence have to be smaller than the tennis balls. Thus, the popularity of the chain link mesh.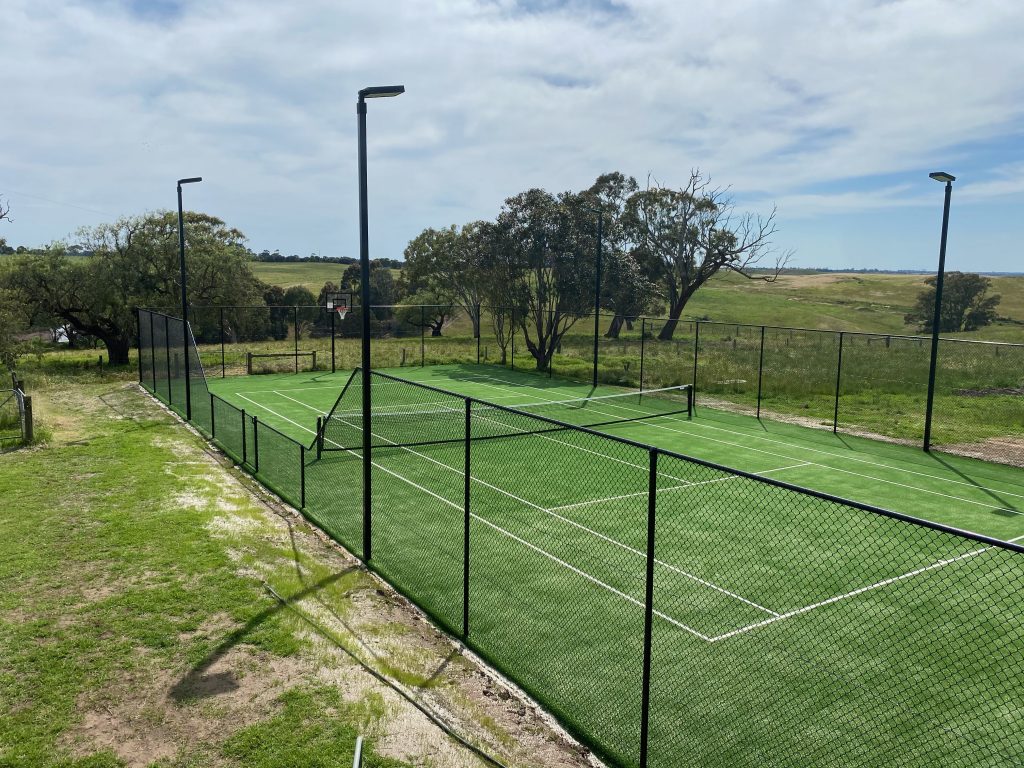 Synthetic tennis court fencing installation
If you are planning tennis court installation and fencing along with it, you can contact Diamond Fence's team. We are experienced sports fencing providers in Melbourne, Victoria.
Call us on (03) 9753 4566, shoot us an email at info@diamondfence.com.au or get a FREE online quote.