PVC, sort for polyvinyl chloride, is the world's third most widely produced synthetic plastic polymer. Coming shortly third after polyethylene and polypropylene, approximately 40 million tons of PVC are produced each year. The PVC coating is also widely used in the fencing industry all over the world, including the Melbourne fencing industry. What makes it so popular? What is the importance of plastic coating in the fencing world? 
PVC comes in two forms. Firstly, the rigid form. The abbreviation used for the rigid PVS is RPVC. The rigid PVC, or RPVC, is often used in the construction industry for pipes and profile applications. For example, doors and windows. Other industries use it widely as well. Bottles, non-food packaging, bank and membership cards amongst many.
The second is the flexible form. By adding plasticizers, rigid PVC can be made softer and hence more flexible. A plasticizer is a substance that can be added to various materials to make them more flexible (softer) as it increases the material's plasticity and decreases its viscosity. Sometimes this substance is added to decrease the friction when handling the material in manufacture.
Soft PVC is used for plumbing, electrical cable insulation, imitation leather, flooring, signage, and even inflatable products.
When it comes to fencing, the PVC used has the second form: soft and flexible. Otherwise, various fencing types would not be able to use PVC as it would be too hard and brittle.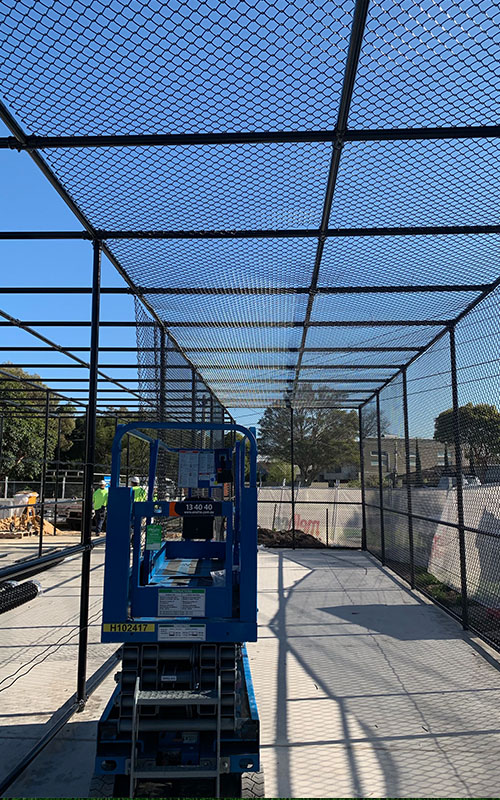 The benefits of  plastic coatings
One of the fencing products offered by Diamond Fence is a plastic-coated chain wire fence, or PVC-coated chain wire fence (chain link fence).
Usually, the chain wire fence is galvanized, meaning covered in zinc, to protect it against corrosion. However, in some circumstances, the chain wire fence needs extra protection. How?
The zinc coating applied can get damaged. Deep enough scratch can expose the fence to corrosion. For example, chain link fencing is a very popular choice for sports fencing, be it for boundaries for tennis courts or cricket nets. Hits against the fencing can damage the zinc coating. Thus, PVC coating is applied to the fencing to give it an extra layer of protection against the external factors that could possibly damage it. Therefore, adding extra protection against corrosion.
Therefore, overall, PVC coating on fencing helps to protect the metal underneath from scratches, rust, corrosion, and other types of damage.
When using PVC coating for fencing, depending on the fencing supplier, you are able to choose from a variety of colours. Thus, you will be sure to find the colour to complement your property. Diamond Fence offers black and green PVC coated chain wire. These colours are very popular as they can blend into many various surroundings.
Adding a plastic coat to your chain wire makes it look less industrial, making it a better choice for domestic fencing purposes.
Additional advantages of PVC include:
cheaper price

relatively easier installation process

it won't fade

long-lasting lifecycle (15-20 years).

easily maintainable
What to know about the maintenance of plastic-coated fences?
PVC coating does not totally prevent rust. How? Damages to the fence can expose the fence to corrosion. When you do notice some rusty spots, rub them off with a piece of steel wool.
A regular check-up can help you to spot any damages early. Giving it an occasional wash with dish soap or bleach will keep it clear. There are also more natural alternatives for cleaning substances, such as vinegar or simply plain water.
Turn to our experienced fencing team, who will provide you with more information on plastic-coated fencing.
Call us on (03) 9753 4566, shoot us an email at info@diamondfence.com.au or get a FREE online quote.