One of the fencing types offered by Diamond Fence in Melbourne is tubular steel fencing or simply tubular fencing. In the below discussion, we will look at what tubular fencing is, the benefits of that fencing style and how to maintain your tubular fences to make sure they will serve you for many years to come.
What is tubular fencing?
Tubular fencing is typically made out of either steel or aluminium. Simply put, tubular fences are made of metal tubular pickets (metal rods) that are joined together, forming an aesthetically pleasant-looking fence. Due to being made of either steel or aluminium, this fencing style is corrosion-resistant, very durable and also affordable.
Some of the applications of tubular fences are pool fencing, front and back gardens, residential and commercial fencing.
Tubular fences come in many styles. Choices include a range of options for the top of the tubular steel fences, such as flat, ring, loop and spear tops.

Benefits of tubular fencing
Customisation
Tubular fences can be custom-made. Hence, choosing this fencing style does not limit your creative choices. As mentioned above, decorative choices include various tops for tubular fences. In addition to flat, ring, loop and spear tops, you can also choose from the ornaments such as spheres, hemispheres, twisted tubes, metal leaves and roses.
Versatility
Thanks to being made of steel or aluminium and processes such as galvanizing and powder coating, this fencing style is versatile. With appropriate maintenance, this fencing style can last for decades. 
Security
Tubular steel fences add security to your premises. Additionally, this fencing type is suitable as a safeguard around hazardous areas. For example, in factories or around commercial pools.
Various gates, either manual or automatic, can be installed with your chosen tubular fencing. These gates can be either with the same style or customised to stand out with different fencing ornaments.
Applications
Tubular fencing is suitable for domestic, industrial and commercial purposes. Pool fencing, sports fencing, security fencing around hazardous areas, and garden fencing, among many.

Maintenance of tubular fences
Once you have installed tubular steel fencing and/or gates, maintaining it should be taken seriously to extend the longevity of your fencing.
1. Remove the dirt
Powder coating will protect your fencing from corrosion. However, your fencing still needs cleaning from the dirt and salt build-up. Otherwise, in the long run, the environment can affect the powder coating, thus, the metal underneath it. A build-up, either of dirt or salt, in crevices and joints of tubular fencing (gates) will create good environment for moisture, speeding up the damage that may occur to your fencing. Hence, affecting the stability of the fencing structure.
2. Annual or bi-annual maintenance
The maintenance of your fencing should be performed at least once or twice a year, allowing you to notice any damages or changes to your tubular fencing. Thus, allowing you to fix the damage before it becomes a more costly problem.
3. Cleaning should be performed correctly. 
Meaning, that when cleaning the fence, you should make sure you won't damage it more. For that, the fence should be wiped gently with a wet sponge that allows the removal of loose dirt and debris. To remove spots that are more stubborn, you can use a soft brush and household detergent. Avoid using detergents that contain solvents or petroleum-based chemicals as they will damage the coating. Lastly, use warm water to rinse your fencing and let it dry naturally. Using a cloth to dry and polish it will, however, give it a cleaner finish.
4. Safety first
When cleaning the fence, you should be aware of your safety. That means using safety gloves when dealing with cleaning chemicals but also making sure that there are no hazards around your fencing, such as ladders or loose wires.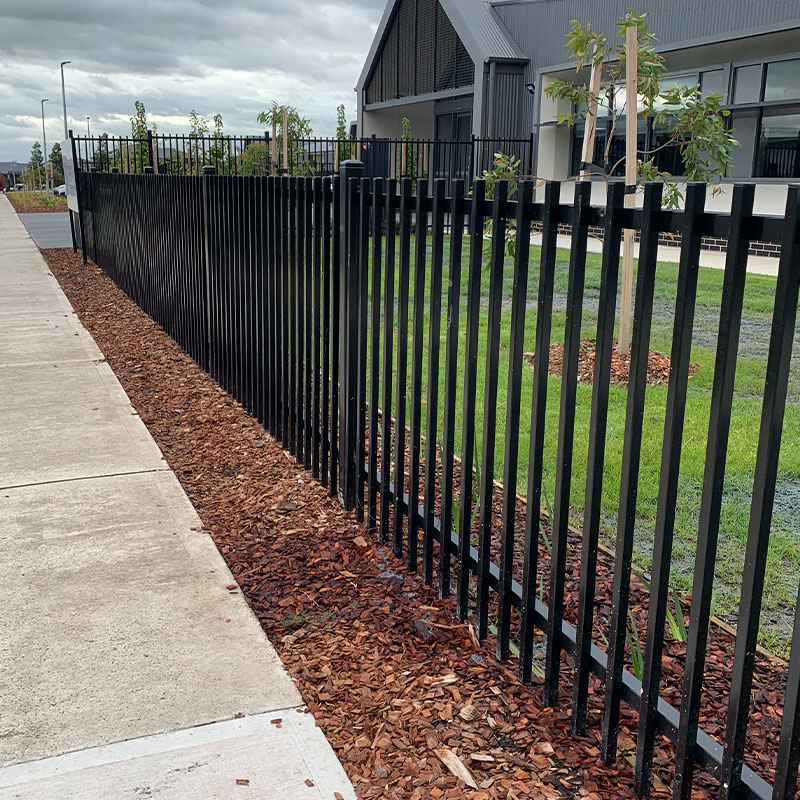 Interested in tubular fencing in Melbourne?
Contact us today. Send us an email at info@diamondfence.com.au OR give us a call on (03) 9753 4566.
The easiest option, however, would be to use the online enquiry form that allows you to send through any questions.