Diamond mesh fencing is also known as chain wire fencing, chain link fencing, cyclone fencing and hurricane fencing. In the discussion below, we will focus on the benefits, features and maintenance of the diamond mesh fences.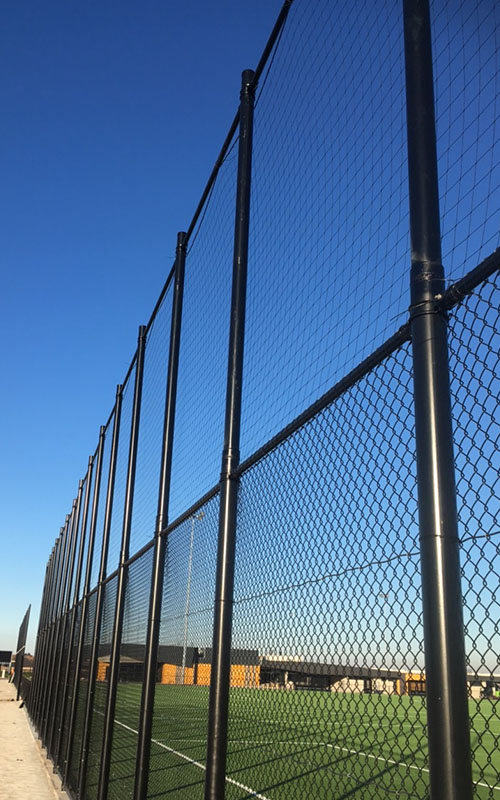 Benefits of diamond mesh fences
Low maintenance
Diamond mesh fencing is a low maintenance fencing alternative in Melbourne. We will discuss more about the maintenance of the diamond mesh fences below.
Diamond mesh is easy to keep maintained with a regular up-keeping and minimal effort.
Security
Diamond mesh fences are secure and often used at industrial premises. This fencing type acts as a deterrent for criminals, animals and other undesired trespassers. Additionally, further security measures can be added to the diamond mesh fencing to make it even more secure. For example, razor or barbed wire.
Durability
Diamond mesh is very durable. It can withstand various weather conditions such as hot, cold and wet conditions. Additional protective layers such as zinc or PVC add that protective element to your mesh fencing to keep it standing strong for longer.
Features of diamond mesh fences
Diamond mesh has many features. Generally, it is made of galvanized iron wire, vinyl- coated iron (PVC) wire or stainless steel wire. Diamond Fence offers green and black vinyl coated diamond mesh fencing.
Additionally, diamond mesh can be ordered in various lengths, heights, mesh openings, wire diameters and materials.
Diamond mesh fencing installation has many benefits because diamond mesh can be cut into desired pieces. Hence, it can be accommodated to various site conditions. Furthermore, it is one of the cheapest metal fencing alternatives.

Maintenance of diamond mesh fencing
When it comes to the maintenance of the diamond mesh fencing, you need to keep in mind that an abundance of moisture can lead to corrosion (rusting). To prevent that, you should clean the surroundings of your mesh fencing from any dirt and debris that can create a perfect environment for moisture.
Additional protection can be provided by coating diamond mesh fencing with substances that will prevent the damage caused by moisture. For example, zinc coating. This process is called galvanizing. This method includes applying a thin layer of zinc to a thicker metal base. Galvanizing shields the base metal from the surrounding environment. You can recognise zinc coating by a mute, silver colour.
Another factor that can influence the longevity of the diamond mesh fencing is the growth of plants (vines and creepers). Hence, to keep the integrity of the fence, avoid plants growing along your fence as they can also create an environment suitable for moisture.
Interested in the diamond mesh fencing in Melbourne?
Contact us today. Send us an email at info@diamondfence.com.au OR give us a call on (03) 9753 4566.
The easiest option, however, would be to use the online enquiry form that allows you to send through any questions.